USS Growler SSG-577
Submarine Museum
www.USSGrowler.com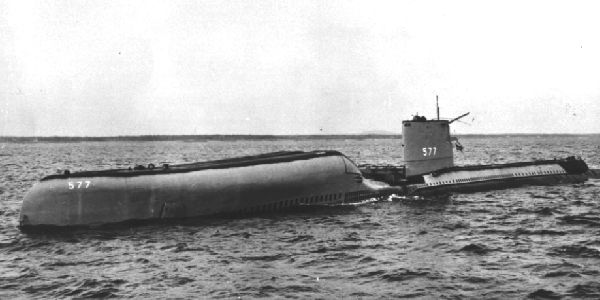 U.S.S. GROWLER SSG-577
Our Nation's Fourth Guided Nuclear Missile Submarine 1958 - 1964
Download the above picture in 942 x 707 JPEG format ~ 88Kb
---
Introduction:
U.S.S. GROWLER was a pioneer when she departed on her first Nuclear Deterrent Patrol in 1960. Armed with Regulus nuclear cruise missiles, she helped usher in a new era of strategic defense. She was one of the predecessors which led to the deployment of a large fleet of sophisticated submarines armed with Polaris nuclear missiles. The concept of strategic deterrent was revolutionized when these missiles were sent out to sea in large numbers. Hidden deep in the oceans, they were nearly undetectable. Even more significant, underwater-positioned missiles greatly reduced the risk of nuclear attack against the U.S. mainland. It was suicide for a hostile power to strike at population centers while retaliatory missiles were poised beneath the sea. Prior to GROWLER and her companions, all of America's strategic nuclear weapons had been based on land, relatively close to people.

Sending the missiles out to the sea on submarines like GROWLER proved to be the most effective nuclear deterrent ever used. All of the world powers followed the example, thereby greatly reducing the possibility of all-out war.

Compared to today's awesome Trident nuclear missile submarines, which have replaced the aging Polaris vessels, GROWLER is rudimentary and undersized. However, she is historically significant because of the vital role she played as a deterrent to nuclear war. That concept continues to be a cornerstone of America's strategic defense today.

As such, GROWLER is still relevant to the everyday lives of all Americans. GROWLER is on permanent display as part of the Intrepid Sea-Air-Space Museum at 46th Street and 12th Avenue in New York City. Visit the museum via the link at the bottom of this page.
---
Background:
On August 8, 1988, Congress awarded Zachary Fisher, Chairman of the INTREPID Sea-Air-Space Museum, the former USS GROWLER (SSG-577), a diesel-electric powered submarine that was decommissioned on May 25, 1964. At the time of its acquisition by Mr. Fisher, GROWLER was moored at the Inactive Fleet section in the Puget Sound Naval Shipyard in Bremerton, Washington and was scheduled to be used a torpedo target by the U.S. Navy.

When GROWLER was commissioned on August 30, 1958 at the Portsmouth Naval Shipyard in Kittery, Maine, she joined her sistership GRAYBACK and became the fourth submarine in the Navy designed and built to launch strategic deterrent cruise missiles armed with a nuclear warhead. Unlike today's nuclear-powered submarines that can launch cruise missiles and ballistic missiles while submerged, GROWLER and GRAYBACK along with the earlier TUNNY and BARBERO had to surface in order to launch their missiles. Although primitive when compared to missile submarines patrolling all the oceans of the world today, GROWLER patrolled the vastness of the Pacific Ocean during the early days of nuclear deterrent to preserve the peace and ensure the United States could instantly retaliate if we were attacked. This deterrent strategy has been the cornerstone of America's security for more than thirty years and will remain so, far into the future.

GROWLER's name is steeped in naval tradition, going all the way back to the War of 1812 when the first two GROWLER's fought against the British. The third GROWLER, the first U.S. submarine so named, fought throughout the Pacific during WWII and the fourth GROWLER was built and commissioned to continue the legacy during the post-WWII days.

Mr. Fisher, anxious to expand his "Navy" on New York's West Side, arranged for GROWLER to be towed from the shipyard in Bremerton, through locks in the Panama Canal and into New York Harbor via George Steinbrenner's Tampa Shipyard, where she would be converted to a museum.

The 6,500 mile tow (one of the longest in history of a naval vessel) began on October 6, 1988 and withstanding a few minor technical difficulties and heavy seas, GROWLER passed through the locks in the Panama Canal in early November, 1988 and proceeded to the Tampa Shipyard where she was placed in drydock and combed over by a team of experts who renovated her interior, painted her exterior and converted all steep ladders into stairways.

Six months since her departure from Bremerton, thirty-one years since her commissioning and one-hundred and seventy- seven years since the first two GROWLERS fought against the British, GROWLER is prepared to commence her final, and perhaps most prominent patrol, moored opposite the aircraft carrier Intrepid (Pier 86), as the first guided missile submarine to open her doors to the American public.

Zachary Fisher is a patriotic American who, through his generosity and insight, has displayed historical artifacts such as aircraft carrier Intrepid, and now GROWLER, for the benefit of the American people whom, he strongly believes, must have the opportunity to learn about the people and events that have shaped our country's history.
---
Duty:
GROWLER was one of three submarines built to carry the Regulus II nuclear guided missile, designed to provide a seagoing strategic deterrent capability.

The submarine was commissioned at Portsmouth on August 30, 1958. After shakedown, GROWLER underwent Regulus I and II training in the Caribbean.

She was transferred to the Pacific and reported to Pearl Harbor on September 7, 1959. Assigned as flagship of Submarine Division 12, she carried out a series of battle and torpedo exercises, as well as missile practice drills.

On March 12,1960 she departed on her first Nuclear Deterrent Patrol, carrying Regulus missiles armed with nuclear warheads. During the next three years GROWLER performed nine strategic deterrent patrols.

With the introduction of the Polaris missile submarine, GROWLER was replaced by a considerably more capable and survivable submarine deterrent, one that would revolutionize the concept.

Departing Pearl Harbor, GROWLER returned to Mare Island and was decommissioned on May 25, 1964 at the early age of six. She was held in reserve for nearly 25 years until declared excess for the navy's needs and designated to be used as a target. It was at this time that Mr. Zachary Fisher, chairman and founder of the Intrepid Museum, undertook to save this unique and significant vessel for posterity. GROWLER was turned over to the Intrepid Museum in the fall of 1988 for conversion into an exhibit.
---
SSG-577 Basic Information


     Commissioned:   August 30, 1958

     Decommissioned: May 25, 1964

     Displacement:   standard - 2,540 tons
                     submerged - 3,515 tons

     Dimensions:     length, overall - 317 feet
                     beam, extreme - 27 feet
                     draft - 19 feet
                     height, from keel to raised antennas - 69 feet

     Propulsion:     surfaced/snorkeling-3 diesels
                       (Fairbanks Morse) 4500 hp
                     submerged below snorkel depth-2 electric motors
                       (Elliott) 5600 hp 2 shafts

     Speed:          maximum surfaced - 20 knots
                     maximum submerged - 12 knots

     Armament:       nuclear guided missiles
                     2 ea. Regulus II or 4 ea.  Regulus I
                     six 21 inch torpedo tubes - 4 bow, 2 stern

     Complement:     9 officers
                     11 chief petty officers
                     68 crewmen


---
GROWLER Heritage:
The Intrepid Museum's USS GROWLER (SSG-577) is named after another very historic vessel, also a submarine, which was lost in World War II. She was commissioned on March 20, 1942 as USS GROWLER (SS-215). Her first captain was Lieutenant Commander Howard W. Gilmore. His deeds would be immortalized when he became the first submariner to be awarded the nation's highest decoration, the Medal of Honor.

GROWLER's first war patrol put her up against a formation of three Japanese destroyers on July 5, 1942. She torpedoed two amid-ships, the third in the bow. One of her targets sank, the other two were severely damaged.

On her second war patrol GROWLER sank four Japanese ships totaling 14,000 tons.

During a night surface attack on February 7, 1943, GROWLER became engaged in a life and death struggle with a Japanese vessel which attempted to ram the submarine. Commander Gilmore was able to turn the tables and rammed the enemy instead. Now close alongside the Japanese ship, GROWLER's bridge was sprayed by deadly machine gun fire. Gilmore got everyone below to safety except himself. Badly wounded, he knew that it would take too long to be carried below and anyone attempting to do so would be exposed to enemy fire. Every second that GROWLER remained on the surface increased her vulnerability to attack and sinking. Gilmore ordered "Take her down,' without him. He was posthumously awarded the Medal of Honor for this selfless act of heroism.

GROWLER's eleventh and final war patrol began on October 20,1944, accompanied by HAKE and HARDHEAD. The wolfpack attacked a Japanese convoy on November 8, from two sides. GROWLER closed alone on one side and fired torpedoes. HAKE and HARDHEAD heard one of her torpedoes strike, followed by a series of Japanese depth charge attacks. GROWLER was never heard from again.
---
U.S.S. GROWLER Photo Gallery
---
C.O.B. U.S.S. GROWLER - Ken Onley
---
For more information on GROWLER, GRAYBACK and the Regulus Guided Missile Program, the book "Regulus: The Forgotten Weapon" by David K. Stumpf, Ph.D. is available direct from David Stumpf via e-mail:

dkstumpf@vtc.net
Author David Stumpf has set up the "Tom Stebbins Memorial Fund" in honor of the GROWLER's first COB who passed away in 1995. 36% of the royalty from the GROWLER/GRAYBACK book will be donated to the fund which supports the educational and exhibit costs onboard GROWLER.
---


In Memory of Zachary Fisher 1910-1999


Visit the Intrepid Sea-Air-Space Museum ... home of the U.S.S. GROWLER


Intrepid Museum Aerial Photo


USS Growler Crewmember E-mail Directory


Read Chapter 13 of David Stumpf's Regulus: The Forgotten Weapon


Visit the Regulus Cruise Missile page


Visit the NavSource USS Growler Photo Archive


Return to the WA3KEY Navy / Submarine homepage
---
Visitor number since 10/24/97
www.USSGrowler.com
norm@wa3key.com
Webmaster
Copyright © 1996-1999 WA3KEY & Intrepid Sea-Air-Space Museum Terms
Growler Photo, Submarine Force Library and Museum - Groton, CT
Dolphins background by Dan Campbell
Web design by wa3key - Created Monday, March 18, 1996
Most recent revision Friday, November 11, 2005